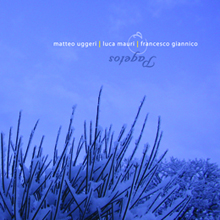 UGGERI/MAURI/GIANNICO
Francesco Giannico is an italian musician about ambient electroacoustic folk music. He lives near Taranto, in the southern part
of Italy. He's graduated in "Musicology and Musical Heritage". He published his works for many labels such as Afe Records,
Hysm, Akoustic Desease, Muertepop and Porter Records. His musical approach is better described as a cinematic journey which pushes the boundaries of digital media even further by incorporating smooth melodies and gentle textures. More canonical instruments such as guitar and piano are constantly present into Francesco Giannico's music, within interrupted structures or long and dreaming sonorous carpets.
Luca Mauri approached experimental avant-garde music in the late 90s, with his solo-projects 00 and looke. Luca has also
played guitar in "I/O" (2000 – 2010), an impro quartet with avant-garde/free-form rock/minimalistic influences. Today, Luca
plays guitar in the electro-acoustic band Luminance Ratio with Gianmaria Aprile (Ultraviolet Makes Me Sick), Luca Sigurtà
(Harshcore) and Andrea Ferraris (Airchamber 3, Ur, Ulna, Sil Muir). His solo CD was published by the cult label Creative Sources in 2009.
Matteo Uggeri/Hue has been creating music since 1994. He has experimented with various music styles under different names
and projects, from industrial to post-rock and electronics. Over the years, he has played in bands like Sparkle in Grey, Harshcore
and Norm and collaborated with many musicians such as De Fabriek, Ether, Nicola Ratti, OvO, Telepherique, Morkobot, Passo
Uno, Nuno Moita/Gigantiq, Tex La Homa, Alessandro Calbucci and Giuseppe Ielasi, on remixes and other form of collaboration.
His latest release is a collaboration with Andrea Ferraris on the acclaimed CD "Autumn is Coming, We're all in Slow Motion",
issued in 2010 by Hibernate.