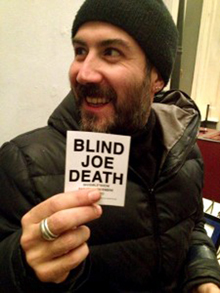 MAURIZIO ABATE
Maurizio Abate is a self taught guitarist active since the early 2000s, with an instinctive approach to experimentation.
He is always looking for new forms of expression, to mould a personal shape to the blues and to psychedelic matter, mainly driven by a particular fascination for stringed instruments. Since 2006 he has made several recording sessions, released on some LPs under his own name and other collective groups, taking part in numerous tours in Italy and Europe. He also records and produces albums by other artists. Over the years he has collaborated with :
David Vanzan and Virginia Genta (Jooklo duo), Kawabata Makoto (Acid Mother Temple), Luca Massolin (Golden Cup), Ricky Biondetti and Ale de Zan (In Zaire), Jeremie Sauvage and Mathieu Tilly (France), Paolo Pascolo and Andrea Gullo (Reset), Giorgio Pacorig, Marcella Riccardi ( BeMyDelay ), Al Doum and the Faryds, Rella the Woodcutter.
His records are published by Troglosound, Qbico, 8mm Records, Holidays, Boring Machines, Conspiracy Records, Tulip.
He is currently involved in the project Eternal Zio with Rella the Woodcutter, Raubaus and Valla, plays live in the project BeMyDelay and in addition he continues his own musical research.