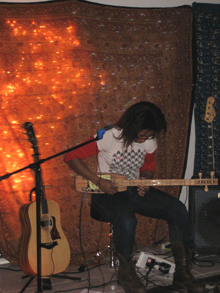 WHISPERS FOR WOLVES (MELISSA MOORE)
WhisPers for WoLves and civilTwilight are the solo pysch/noise/folk projects of Melissa Moore. The musician, experimental instrument builder, installation/sound artist, and sculptor was born in Washington DC in 1975 and is now based in Baltimore, MD. Moore's gallery and performative sound work ranges from noisey finger-pickin folk guitar, invented instruments, voice, song, and electronics to music based in field recording composition (performing under the name Tauu). Her composed work involves the magnification of minute sound sources, focusing attention on the physical properties of materials and unusual acoustic phenomena in a reductive and elemental way. She works with such diverse sources as field recordings, fire, water, invented instruments, electronics, percussion, wind instruments, acoustic-folk guitar and voice.

Her music and performance work often has an installation quality that belies its deep aesthetic and philosophical considerations. Her current music project, to be released by Boring Machines is titled: "Language of the Dards" (tauu and twiLight sing 100,000 songs of Milarepa: Noise Narratives). It is a multi-part series of pieces developed around the text/teachings/songs of Indian Yogi, Milarepa. Part one is made of three long recordings of voice/finger-pickin guitar, nepalese oboe, and electronics.

Melissa also developed and curates the Baltimore electro-acoustic / multi-channel sound series, SoundPillow Series. She was selected to perform High Zero 2005/2007, an international experimental music festival in Baltimore, MD. She has also performed at Straulau 68, LaborSonar, and Lichtblick Kino in Berlin, Germany, Elastic Arts and Something Else Radio in Chicago, Illinois, Homemade Festival and Monkeytown in New York, the Redroom and 14 Karat Cabaret in Baltimore and other venues in the US. Her present work is an intersection of sound, sculpture, and installation.